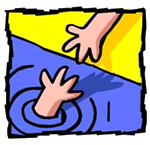 LEND A HELPING HAND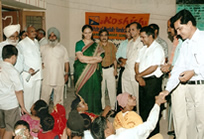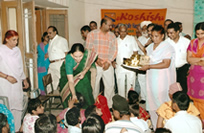 If you wish to donate to
our organization as your
contribution towards the
cause of special brain
damaged children.
Here is how you can do it :-


Donors in India may donate
using a Crossed Cheque or
Bank Draft in the name of

KOSHISH CHARITABLE TRUST
Current A/c. No.
358501010021071,
Union Bank of India,
Main Branch,
Sonipat -131001

Genesis of 'Koshish'
Our Koshish to New Achievement
After a long time (Approx 12 year) the Businessman back to the Home
Thanks for Our Name Entered in the Books by Poonam Gandhi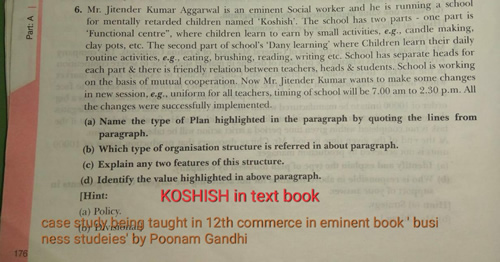 The coming together of like minded , socially responsible, professionals, who dreamt of giving something back to the society along with a few enterprising parents of mentally challenged children were the reason for the birth of a movement called `Koshish`. This was then registered as Koshish Charitable Trust .
'Koshish' is a serious endeavor to help and rehabilitate children with Autism, Cerebral Palsy, Mental Retardation, so that they are not dependent on anyone for the rest of their lives. Furthermore, 'Koshish' has also taken it upon itself to create social awareness in the society by taking issues such as women empowerment, female infanticide.
As the name ' Koshish' suggests, we on our part will do the utmost to better the lives of these special children, who being challenged mentally, have so far been looked indifferently by society. To succeed in this mission of ours we seek your cooperation and the blessings of the almighty.

Video Documentry
All the Childrens & Participants of The Film are Real Similarity
If Any, is Purely Coincident








| | |
| --- | --- |
| | |
| Children attending a class | Practicing for a sports meet |
Objectives of the Trust
To provide quality education and training to the mentally challenged children, have diagnostic facilities and standard for assessment for various disabilities.
To generate awareness about the needs and aspirations of the mentally challenged in the community and seek the societies help in providing a respectable living for these children.
To interact and collaborate with all such agencies, nationally and internationally for successful and integrated, social, medical, economical and above all psychological rehabilitation of these children.
To educate parents through regular counseling and involving them in various rehabilitation activities.
Facilities
Special education: Promoting educational training, trying to provoke speech through music therapy and speech therapy classes.
Physiotherapy & Occupational Therapy: Physiotherapy equipments are soon being made available in accordance with the needs of the children. A trained physiotherapist shall impart physical exercises.


Students of Koshish attending an athletics meet

Vocational Training: This is given to children in Candle making, Chalk making, File cover making, cleaning and packaging of pulses and cereals in various weights, Arts and Crafts, book binding, making paper bags out of waste newspaper, in the pipeline are projects to make phenol and sculptures in Plaster of Paris.
Psychological Assessment: I.Q. and mental ability of the children are assessed with the help of various standardized tests.
Co-curricular Activities: Singing, Dance, Music, Painting are taught not only to uncover the hidden talents of the children but also as a therapy for emotional outlet. Meditation classes have also started.
Staff: The entire teaching staff has been in this particular field of teaching for the last many years and are completely qualified to teach such special children.
Sports: Students of the institution take part in district, State and National level competitions , held for such children.
Celebrations: Various National and religious festivals are celebrated in the school premises. The birthdays of children and social get-togethers are also organised with the help of parents.
Camps & Seminars: These seminars are organised , regarding problems of disabled children and how parents and siblings can help them. Professionals from various fields participate in this.
Vision of the future:
To have our own campus with the provision of a hostel on the land we have recently purchased for the purpose.
Extending vocational cum Rehabilitation unit.
To start home for adult disabled.
To establish orphanage for disabled children.
To include other issues such as sewing centers for widows in our program.
How can you help ?
By sponsoring or financially adopting a child.
By joining in fund raising.
By telling more people about the institute.
By donating liberally to secure a happy future for the mentally disabled.
By giving suggestions as to how else we can make a difference to the lives of these children.

Children being felicitated for their performance by the
Inner Wheel Club, Sonipat.
A student reciting a Poem
at the School Function
To mark Gandhi Jayanti.